July happenings at Puesto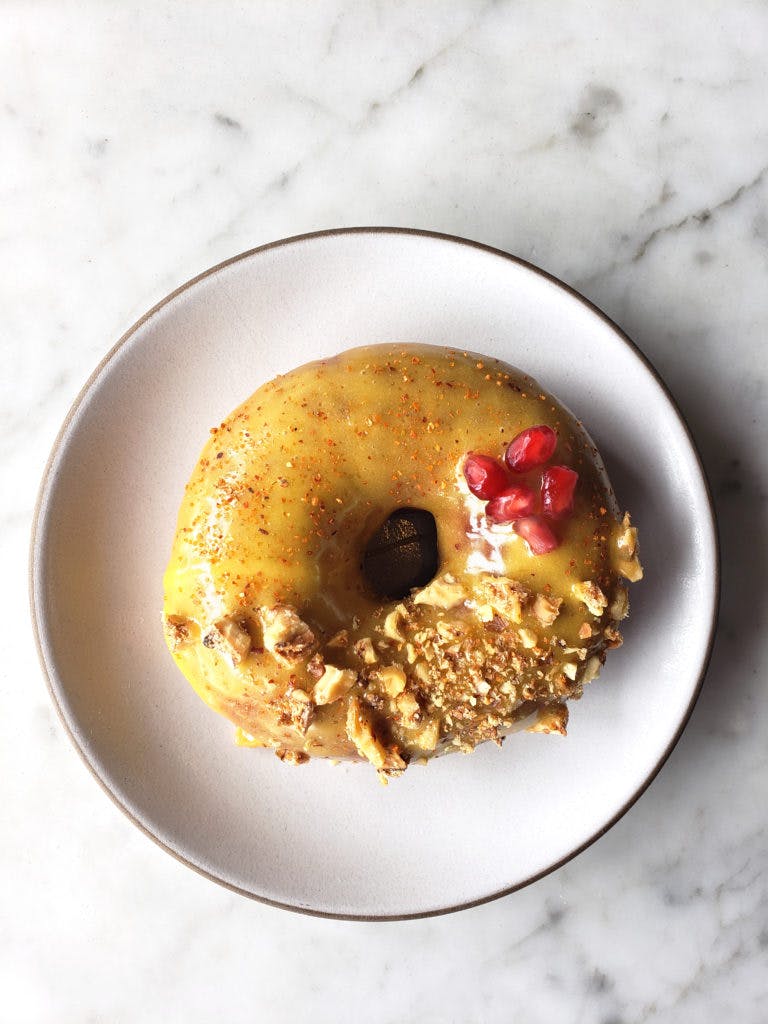 DONUT MISS THESE JULY EVENTS!
Summer's off to a great start at Puesto and we've got two ways this month to make it even sweeter for you.
Sidecar Doughnuts collaboration launch
Pastry Chef Jessica Scott and the team at Sidecar Doughnuts have teamed up for a special doughnut collaboration as part of their 2018 Guest Chef series. Inspired by the flavors of Puesto, Chef Jess pulled from our Nogada guacamole and used the toppings as the basis of the Nogada doughnut! Sidecar's incredible doughnut base will feature a mango glaze, tajin candied walnuts, and pomegranate seeds! You can try out this incredible creation at any Sidecar location the entire month of July AND get it at Puesto Los Olivos when the Sidecar truck comes to visit on Saturday, July 14 from 11 am-2 pm! Puesto Los Olivos, 8577 Irvine Center Dr, Irvine, CA 92618
Dessert Night with Chef Jess – Dessert Night will take place Friday, July 13 at Puesto La Jolla! Chef Jessica will make a special dessert for this 1 night (never before made), and personally serve the dessert to each guest that orders it. The dessert always has a table-side component and this time around its a Summer Peach Oblea Fan: Modelo-caramel soaked spongecake with tableside piped sweet corn mousse that is accompanied with meringue paper and cinnamon roasted peaches. Um, okay, we're drooling.
July Taco of the Month

We're all about the crispy melted cheese but we get, summer (aka bathing suit season) is here and you want some non-cheesy options. July's Tomatillo Beef taco is filled with delicious tomatillo-braised beef and topped with nopales, avocado, cilantro, and white onion.
The beef is cooked for hours in a tomatillo braised with garlic, jalapeño, onion, and salt. The result is tender meat with a distinctive yet subtle tomatillo tang. This taco demonstrates a classic cooking principle that Mexican cuisine shares with hundreds of culinary traditions around the world: any meat if seasoned perfectly and cooked slowly and carefully, can be transformed into a delicious meal. After that transformative magic, the meat needs little else to be perfect. Thus, the street taco is born, garnished with nothing but avocado, cilantro, and onion.
July Margarita of the Month
In case you missed it, 0ur seasonal margarita continues this month at all Puesto locations.
We're avo-crazy at Puesto and thus, the Avocado Margarita was born, made with Lunazul Reposado, fresh lime, agave, and avocado. It's also a collaboration with The Cado, a pop-up avocado museum coming to San Diego later this summer that we've teamed up with to celebrate California's favorite fruit.
Now, a little more on the booze. Lunazul is estate grown and distilled. One of the brothers of the Jose Cuervo family sold his share of the company and got some agave fields as part of the deal. Now, that estate produces Lunazul only. Lunazul is produced with classic techniques and heritage practices, resulting in a high-quality tequila with more acclaim than any good tequila needs. The reposado is rested in bourbon barrels, imparting layers of vanilla, spice, and subtle oak.
Horchata for a Cause Beneficiary


Last month, we lost our hero. Every industry has its hero and Anthony Bourdain was ours. In his honor and the many who have been affected, we have selected the American Foundation for Suicide Prevention as our Horchata for a Cause beneficiary.
The American Foundation for Suicide Prevention (AFSP) is the leading organization dedicated to fighting suicide. Their mission is to save lives and bring hope to those affected by suicide and they work in local communities to help educate and connect people to resources. AFSP is the largest private funder of research into this leading case of death and we provide educational programs, training, resources for those affected, and much more. Visit their local chapter web pages to see more about their work, or join them at a local Out of the Darkness Walk in your community. With each Frozen Horchata purchase at any Puesto location, a portion of proceeds will support the work of AFSP.
If you are in crisis, please call the National Suicide Prevention Lifeline at 1-800-273-TALK (8255) or contact the Crisis Text Line by texting TALK to 741741.